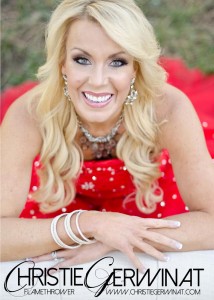 Christie is a recording artist and a singer/songwriter. She just released her latest CD, "Flamethrower". This album has been a collaboration of the best of Nasvhille. This album is a great combination of country, pop, and rock. The people involved with making this album are currently working with or have worked with artists like Eric Church, Little Big Town, Tim McGraw, Faith Hill, Big & Rich, Toby Keith, Trisha Yearwood, Deana Carter, Nitty Gritty Dirt Band, Neil Diamond, Suzie Bogguss, Patty Loveless, Stevie Nicks, and many more.
Christie has co-wrote songs with Nashville's top songwriters with SB 21 Music Publishing. She has also written, co-written, and recorded her own originals with a band in Denver called The Country Music Project.
Christie's greatest passions are for Jesus, her family, friends, and leading others in worship. Her love and heart for singing and music is where she comes alive. She loves listening to and being inspired by Whitney Houston, Carrie Underwood, Tori Kelly, Beyonce, Kari Jobe, Kim Walker-Smith, Hillsong, Lauren Daigle, Jessie J and so many more.
Christie has a versatile vocal style that allows her to sing and adapt to many different genres of music. Born into a family of singers, music is in her soul. Christie started performing the moment she could reach the microphone as a little girl. Her parents traveled the west coast when they were younger as a gospel duet and Christie and her brother and sister would tour with them in an RV. This is where Christie would dive into her love for songwriting and use music as her outlet and pour herself into it. She would listen to her little pink radio and record songs over and over again and listen to the radio for hours on end, dreaming that one day her music would be on that little radio. Christie has sang all across the world and has sang back up for several international artists. Her love for performing and singing is clear when she is on stage.
Her CD "Flamethrower" is getting great reviews by the top in the industry. Her singing has been described as "warm and soulful with excellent control, versatility, and range."
Christie has won acclaim from critics and the respect and admiration of her peers. "When Christie is on stage the room stops and looks. Her beautiful singing and high energy performances engage her audience."
Contact:
Management/Booking: Hollaback Booking @ christiegerwinatmusic@gmail.com
Website and Merchandise: www.christiegerwinat.com